Visit to Norra Bäckfallet on Midsummer Eve
A visit to Karen, Lisa and Kristin's grandmother's birthplace, the croft Norra Bäckfallet was the first item of the days schedule. The croft was also the birthplace of Olof August Bergquist, the grandfather to the Bergqvist/Olpers cousins. For some of us it was the first visit to Norra Bäckfallet.
From left: Olov Bergqvist and his wife Lena Skoglund; Lisa Huling*; Anneka Bergqvist; Kristin Finney*; Karen Talley*; Maria Bergqvist; Magnus Bergqvist; Karin Norling** ( * Born Swanson; ** Born Olpers ). The owner today, Olle Sjöberg, had given us permission to enter the croft. With regards that it was built in the end of the 1800's the frame of the house turned out to be very good.
More photos from Norra Bäckfallet: Group zoom-in The Swanson sisters at the croft The kitchen Photographing The kitchen window Upper floor The flowerbed Timber wall in the barn The underground storage Brothers.
Midsummer celebration at Hembygdsgården Ransäter
After the visit to Norra Bäckfallet we went to Hembygdsgården Ransäter to take part in the local celebration. The presentation by the native place association is: Midsummer is traditionally celebrated with a procession and the raising of the midsummer pole, followed by song and dance, the premiere of the song-loving play Värmlänningar in the open-air stage Gropa, which this year is being played for the 70th time! This year we have visitors from our sister city Lindsborg. [ Hembygdsgården (swe) ]
Swedish fika
At the fika Maria's husband Jan Persson and her friend Lena Håkansson joined up (middle). We gathered around a table with our coffee baskets. When everyone had picked up theirs, the table was filled with different contributions: coffee, tea, sandwiches, pizza slices, muffins, watermelon slices. A good 11 o'clock Swedish fika! Photo: KT. Everyone waving
The Lindsborg Swedish Folk Dancers
An American folk dance group from Munkfor's sister city Lindsborg in Kansas celebrated Midsummer in Ransäter on Midsummer Eve. They were on a tour in Sweden and chose Ransäter for this day Lindsborg sticker.
Campbell Gaskill and Brenna Anderson from Munkfor's sister city Lindsborg in Kansas, USA, are looking forward to the "little frogs". Photo: Anton Eriksson. Below interview by Marie Trygg, Swedish Radio P4 Värmland (Swedish/English).
The Lindsborg Swedish Folk Dancers performed at Ransäters Hembygdsgård before sharing in the raising of the midsummer pole and dancing with the locals.
Above a short video from the performance. Also [ link to their own 23'48'' Facebook video ].
Raising of the midsummer pole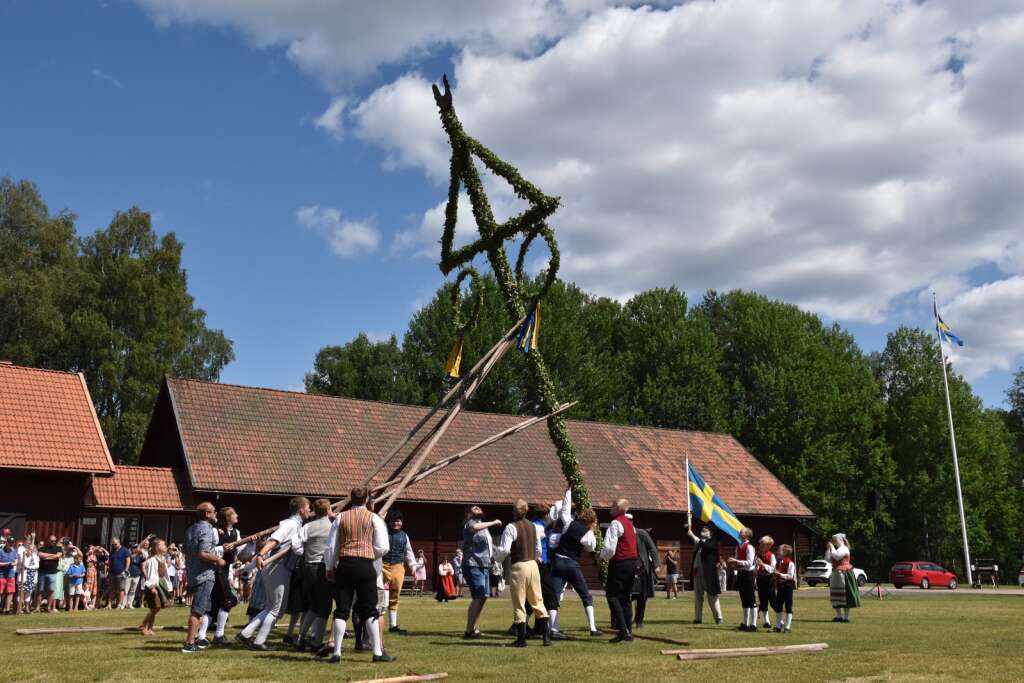 A few nominated people raised the midsummer pole [ link]. Photo: Micael Thernström, Värmlands Folkblad.
A lot of wannabees took part as spectators.
Dance around the midsummer pole
Lisa, Lena, Kristin and Karen in the dancing ring to the song "Här dansar herr gurka" (Here Mr. Cucumber dances). Other dances were: "Små grodorna" (The little frogs) and "Små grisarna" (The little pigs), "Karusellen" (The carousel), "Prästens lilla kråka" (The priest's little crow), "Tre små gummor" (Tree small gammers), "Vi äro musikanter" (We are musicians), "Raketen" (The rocket). Two photos: Dancing 1 Dancing 2
Värmlänningarna
Värmlänningarna was written in 1846, has been played since 1954 and still fascinates a large audience. This year's production of Värmlänningarna at Ransäter's hembygdsgård was the 70th consecutive performance. The Wermland Opera singers performed many excellent vocal numbers.
Lars Bergqvist and Annika Wettberg joined our group to see Värmlänningarna. Lars recorded Värmlandsvisan, the closing song of the end scene, where Erik (Ole Aleksander Bang) and Anna (Tova Hollender) finally where allowed to be married. Lars' video is included above.
Newspaper reviews
Both major provincial newspapers published a review of the premiere performance. It might be interesting to read to compare with your experience. [ NWT Article Note1) ] [ VF Article |
Svensk text |
English translation ].
Visit at Olov and Lena's summer cottage in Brevik
The day ended with a midsummer dinner at Olov and Lena's summer cottage in Breviksbyn. Photo: AB.
Some more photos from Breviksbyn: The set table Lisa Lake view
Midsummer Day
On midsummer day, before lunch, we visited Slöjdens hus (House of Handicrafts) at Alster's manor, Gustaf Fröding's memorial house. We saw the exhibition of Rya rugs from the Länshemslöjdsföreningen's collections. There is also a craft shop with fine handicrafts from Värmland craftsmen. After this we said goodbye to Lisa, Karen and Kristin who continued their Swedish visit by going to Visby on Gotland. Photo: AB.
Descendants
Jonas and Maria raised eleven children in the croft Norra Bäckfallet between 1874 and 1894. Three of them died young. Link to the descendancy chart emanating from Jonas Larsson Bergquist & Maria Kajsa Olsdotter (pdf) with the descendants that can be displayed publicly according to the law GDPR (European Union). The full version with all descendants can be obtained by family members by contacting Olov Bergqvist. E-mail, see below. The page about Norra Bäckfallet (in Swedish) contains a few old photos and links to some of Jonas' and Maria's children.
Pilgrimage
Many in the family have visited Norra Bäckfallet - a little like a pilgrimage. In 1929, Ivar and Ella Swanson visited the homeland after they had married in the spring. They went to Kärne [ Map | Visit ] and probably also Bäckfallet. After the Hedin family reunion at Ransäter 2005, we were some cousins who went up to Bäckfallet on our way to Sunne. There we had an after-meet in the Sɑː'ɑl° at Berg i Brårud (° salSW ≈ denEN). 17 June 2017 Karen and Mike Talley visited Norra Bäckfallet.
How to get there? See [ Excerpt Ransäter-Bäckfallet | Direct link ]. The map is "Kils härad, n" from 1888. Use the zoom button, find Ransäter, then follow the road up to Bäckfallet.
---
If you have more or other information about Bäckfallet you are most welcome to get in touch, see contact below.